Bio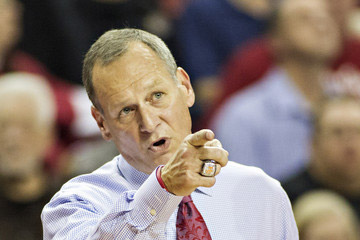 With his team competing at a championship level both on the floor and in the classroom, Bob Marlin enters his 11th season as head coach of the Louisiana Ragin' Cajuns men's basketball team in 2020-21.

Marlin, the 13th coach in the school's storied history on the hardwood, has been the architect of a resurgence of the Ragin' Cajuns as he led the team to five postseason appearances in a seven-year span, a school-record 27 wins in 2017-18 and a pair of Sun Belt Conference championships.
Entering the 2020-21 season, Marlin's 109 victories in Sun Belt Conference play are the most of the league's active coaches and is fourth overall behind Kermit Davis (Middle Tennessee), Ronnie Arrow (South Alabama) and the legendary Gene Bartow (UAB). Marlin's 413 victories at the Division I level are the sixth-most by a coach who has spent his entire career at the mid-major level and part of a group that includes Mark Few (Gonzaga), Bob McKillop (Davidson), Gregg Marshall (Wichita State) and Randy Bennett (Saint Mary's).

The 2017-18 season wa...Read More
Season Wrap
Cajun Nation, it's your Head Coach Bob Marlin, here to bring you my last blog entry for our record breaking 2017-18 season.
After going 2-1 on our last three road games of the season, we headed back home for games against Texas State and UT Arlington. During the... Read More
Videos